Fffffffffff I'm sorry I just had to make another post. I found a TON more juicy details. This time I'll be taking the info from three blog sites and putting them all together, so I won't have to translate their squeeing (I'll have enough of my own, believe me).

Augh. This is just. Everything I could hope for. ;__;


Sources:
http://dmpakuchi.blog116.fc2.com
http://thorny.jpn.org/memo/index.cgi?eid=121#sequel
http://meinschiff.blog115.fc2.com/blog-entry-265.html
http://meinschiff.blog115.fc2.com/blog-entry-266.html (for the art)


-There is a climax right from the beginning. Though Nia didn't have her hair cut in Gurren-hen, her hair is suddenly already short in Lagann-hen. (Detail from 2ch: There is a glimpse of Yoko cutting Nia's hair in one of Nia's memories when Anti-Spiral analyzes her later on.)
-A brief shot from the original prologue to the TV series (the infamous Garlock scene) is used during Lord Genome & Viral's conversation.
-There is clear focus on Simon & Nia and their feelings
-The keyword is not "one million monkeys" but "when they go to the moon."
-"Dear Aniki-san." Nia, wearing a negligee and using a drill pen, writes to Kamina.
-The growth of Kamina City. Smoke and pollution shows the negative side of development.
-In a meeting, Nia is shown sitting next to Simon like it's completely natural for her to be there.
-As the Commander, Simon has his hair swept back and wears a scarf.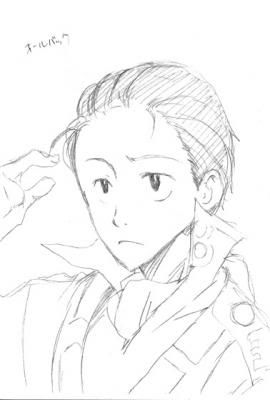 MOEEEEEEEE. *___*

-Guinble also appears and you can see how Simon, Nia, and Rossiu grow up.
-Simon, wearing work clothes, carves the giant Kamina statue using his hand drill. (AHHHHHHHH OMG.)
-Kiyoh and Dayakka's wedding is shown
-Leite and Makken as a married couple; Leite looks like the man of the house and Makken takes care of the children (He totally struck me as being a house-husband in the novels too XD)
-Nia is included in the scene where Yoko leaves Kamina City. Nia and Yoko stay in touch.
-Nia's dream is for the surface to be full of flowers. Not just as decoration, but for all the plants and insects and animals. She wants to make it a place where they could take root, drink water, bathe in sunlight, then bloom and bear fruit.
-When Simon tells her "I'll help too," Nia says "No! Simon, you have your own things to accomplish."
-When Simon proposes, his tone is calm and serious.
-Nia's answer to the proposal is not really an answer; it's more like she's proposing to Simon herself. Because they are different people, she wants to know more about Simon, and she wants him to know more about her. Together side by side, she wants to make each of their dreams come true. (SO ROMANTIC. ;__;)
-Blushing, Simon is overcome with emotion. They embrace. (YESSSSSSSSSSSS!)
-When they try to kiss, Anti-Spiral's face appears, and Nia starts to transform. Simon doesn't realize this for a while at first because his eyes are closed.
-Simon's confusion is played straight and very understandable.
-Messenger Nia appears to be controlling the Mugann. She is very scary and the camera angles make her breasts stand out.
-Life in prison. Simon does not resist when he is bullied by the other prisoners.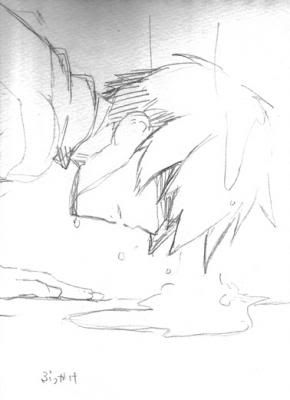 -"When Aniki's statue was brought down, I felt like the power inside of me would explode from rage." Sensing the danger in his own power, he tries to control his emotions, much like the Spiral King did. (YES! I loved this in the novels, I'm so glad they're including it!!)
-In his jail cell, Simon turns a drill made of Spiral Power. He puts his thoughts into words, making for a very effective scene that firmly establishes him as the protagonist. (OMG this was my favorite scene in the 3rd novel!!!! *____* Eeeeeee~!!)
-Viral protects Simon from the other prisoners, shielding him with his body. "This is nothing compared to being hit by Adiane-sama's tail!" He almost comes off as a masochist. (...LOL.)
-Nia tells Simon that Rossiu can't save humanity, and that there are still things only he can do.
-Everyone comes to pick up Simon, not just Yoko. Kittan has some cute moments.
-From there on is a rush of battles in space.
-When Simon-tachi come to save Arc-Gurren, Kiyoh lovingly pets Anne saying "There there, you understand too, don't you Anne?" Though she doesn't stand out much, Kiyoh is depicted very well in the movie.
-Simon says he will defeat anything that stands in the way of him saving humanity, even if it's Nia. But in the end, he can't bring himself to do it. Anti-Spiral says that that weakness is what people call love.
-Saying he's glad he didn't kill her, for only despair would follow, Simon decides to believe in Nia's feelings that remain in the ring.
-The moon transforming into Cathedral Lazengann looks very cool.
-Lord Genome hacking into Cathedral Lazengann is cute and hilarious. Imaishi and Nakashima apparently declared to Ootsuka that they would quit if they weren't allowed to do that scene.
-Simon and Leeron do maintenance on Lagann together.
-There was no point in Rossiu locking his door because Simon breaks through it with a drill. Rossiu instinctively aims his gun at Simon. Kinon comes in and slaps Rossiu, then starts crying. "There isn't a person in this world who hasn't sinned!" Simon tells him that it's okay to make mistakes because there will always be someone to punch you for it, and that they need Rossiu's power too.
-Everyone gathers on the bridge to talk. Kittan says honestly that he's happy Yoko came back, then says "The Gurren Brigade needs Yoko's breasts after all!" to hide his embarrassment. "Right, everyone?!"
-Yoko's space costume is even more revealing.
-The Gurren-dan drink their farewell to the Earth.
-The strain of powering the ship causes Simon to vomit blood. (Another detail from the 4th novel!!)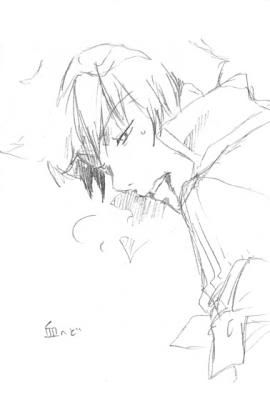 -When the Giga Drill breaks off and Simon grabs his arm screaming, Boota is also shown to be in pain.
-After Kittan dies, Yoko, Gimmy, and the others cry as they fight
-Nia is naked as Anti-Spiral analyzes her. She tries hard to hang on, remembering her diary and her letters to Kamina to keep from losing herself
-Alternate universe Kamina never shuts up apparently
-Since Kittan is the only one who died, he's the only one to appear. Kamina and Kittan joke around with each other. Kamina says "Who are you again?" but adds afterward "Of course I wouldn't forget!" "R-really?"
-Among the parallel universes shown, there is Simon holding a baby.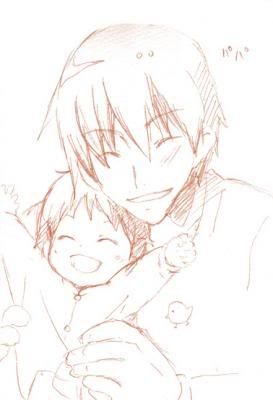 ;_______;

-In Yoko's parallel universe sequence when she's changing the channels, they include shots of Yoko from SUEZEN's Gurrepala and from her music video.
-Boota is kneading dough along with Gimmy, Darry, and Dayakka in the bakery.
-Jorgun and Balinbow appear to be fathers. When the two of them disappear, the children are left floating in the air.
-The fight against Anti-Spiral is intense. When Anti-Spiral reveals that Nia will disappear, everyone is shocked, and Anti-Spiral uses that opportunity to tear Tengen Toppa Gurren-Lagann to pieces. A large quantity of red blood-like energy gushes out.
-Nia has a very cool highlight scene. She rises up for Simon's sake and everyone else's sake, and Solvernia appears. (Nia's Crowning Moment of Awesome!!! ♥♥♥)
-Everyone goes Tengen Toppa. Viral's mecha is named Enki Durga. "To think that I would be able to protect the Spiral Princess..."
-Makken says a ridiculous-sounding attack name that Konishi apparently ad-libbed (and insisted they keep, since his ad-libbed line for Makken in the TV series was cut.)
-Lord Genome appears completely naked.
-Super Tengen Toppa Gurren-Lagann looks like Kamina.
-Simon's hand-to-hand fight with Anti-Spiral is reminiscent of the fight against Lord Genome in the prologue. Simon looks very very cool.
-When Anti-Spiral is defeated, Simon says, "Of course. Why don't you believe in us humans too."
-The scenery is beautiful when they return to Earth.
-Kittan's sisters find out about his death.
-Nia entrusts her diary to Yoko.
-Simon pets Lagann.
-Nia says "He understands everything about me."
-Since they didn't die this time, the guys of the Gurren-dan are able to attend the wedding.
-After Nia disappears, Simon says, "Thank you, everybody. We were both happy." (Ahhhh he said that in the novel too....)
-In the epilogue, Simon has Nia's ring hanging from a necklace. In return for his work, he only asks that people grow flowers.


THESE LYRICS MAKE SO MUCH SENSE NOW. BRB CRYING.