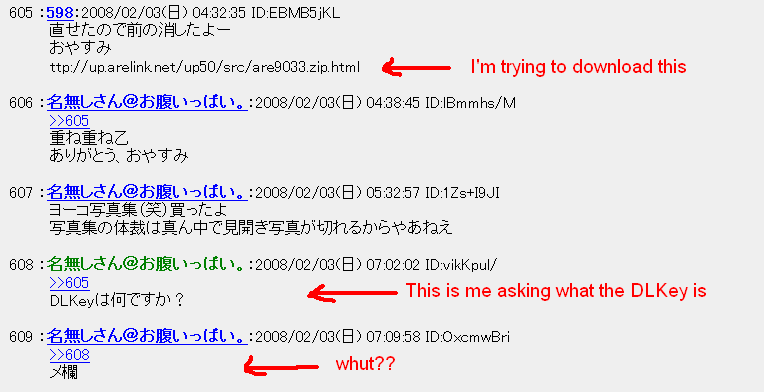 ??? I don't get what that means. Am I just stupid??

EDIT: Other people seem to be downloading it just fine. What am I missing here???

EDIT 2: Is メ欄 supposed to mean "email field"? ...I still don't get it.

EDIT 3: ...I feel like a complete idiot. メ欄 is friggin explained at the top of the page and it does mean "email field." But I don't get why he/she replied to me saying that (other than the fact that I didn't put anything in the email field when I posted). Did he/she want me to sage the thread? ...This still doesn't answer my question of HOW I'M SUPPOSED TO DOWNLOAD THE DAMN THING.

EDIT 4: Seriously, why so cryptic? What am I supposed to think when someone answers my question with "email field"? I would be confused even if we were conversing in English. Or maybe it's because I'm just not experienced enough with how 2ch works.

EDIT 5: I GOT IT. The DLKey was in the email field of the post with the original download link (598). :D I still feel stupid but slightly less so considering I figured it out myself finally.

EDIT 6: WARNING THERE ARE NOW GURREN LAGANN SPOILERS IN THE COMMENTS.

EDIT 7: I LOVE THE INTERNET. The fact that I am able to listen to a radio program that aired in Japan less than a day ago is amazing. One benefit of globalization...

EDIT 8: WTF, people are copy-pasting my arguments again.