Well, I doubt I'm ever going to be completely satisfied with this, so I mind as well just post it already since I've been sitting on it for practically half a year now. (No joke; I started working on it after the second episode aired.)

I'm probably the happiest with Huang's song because I chose it before episodes 19 & 20 aired and it turned out to really fit him. Also, "Dig" because the nakama theme is something I really loved about this show. ♥

Much thanks to
kirarakim for help and suggestions!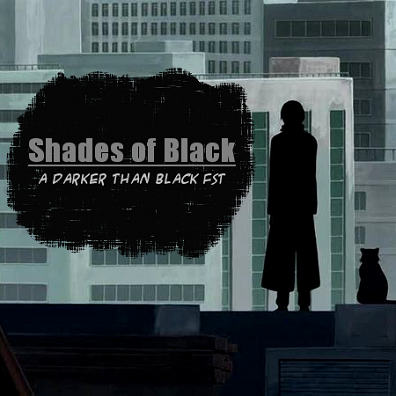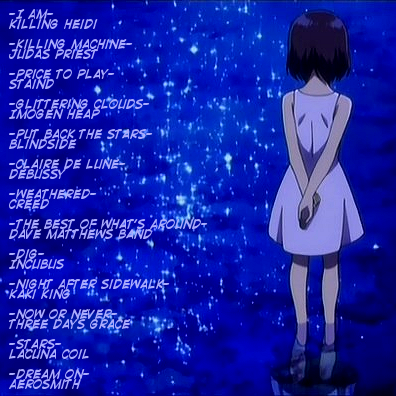 1. "I Am" - Killing Heidi
BK-201 (AKA Li Shengshun)

I am on my own, moving in shadow, nobody knows who I am
Standing alone, and it's me but you can't see who I am

So close but you don't know,
And it's me but you're never gonna see who I am
So close but you don't know,
And it's me but you just can't see who I am


2. "Killing Machine" - Judas Priest
"Contractors aren't human. They're killing machines in human form."

I never ask no questions, I never speak my mind
I always found that silence helps to keep me and my kind alive
I take care of business, it takes care of me
I look after myself and do it well
'cause somebody's always looking for me

They pay me the money and I'll do the job
I got a contract on you
I got a contract on you


3. "Price to Play" - Staind
The Contract; is it worth the Price?

The more you take,
The more you blame,
But everything still feels the same.
The more you hurt,
The more you strain,
The price you pay to play the game,
Then all you see,
And all you gain,
And all you step on with no shame,
There are no rules,
No one to blame,
The price to play the game


4. "Glittering Clouds" - Imogen Heap
Havoc and Mai

I'm not always like this
It's something I become
A terrible weakness
In my nature, in my blood
Save me, oh save me, save me from myself
Before I hurt somebody else again


5. "Put Back the Stars" - Blindside
Hei

Put back the stars
I'm out of shape tonight
Pinhole black velvet
Navigation-skills got lost with the fading light
It was there not more then a second ago
Now what do you know, what I do know
It's just not good enough to make things right
So put back the stars
I'm out of place tonight

Ain't it something to know you're lost


6. "Claire De Lune" - Debussy
Yin

[Instrumental]


7. "Weathered" - Creed
Huang

Simple living is my desperate cry
Been trading "love" with indifference yeah it suits me just fine
I try to hold on but I'm calloused to the bone
Maybe that's why I feel alone
Maybe that's why I feel so alone


8. "The Best of What's Around" - Dave Matthews Band
Mao

Hey my friend
It seems your eyes are troubled
Care to share your time with me
Would you say you're feeling low and so
A good idea would be to get it off your mind


9. "Dig" - Incubus
Nakama

We all have something that digs at us,
At least we dig each other
So when weakness turns my ego up
I know you'll count on the me from yesterday
If I turn into another
Dig me up from under what is covering
The better part of me
Sing this song
Remind me that we'll always have each other
When everything else is gone.


10. "Night After Sidewalk" - Kaki King
God's in His Heaven...

[Instrumental]


11. "Now or Never" - Three Days Grace
Doomsday approaches...

Where's the truth
For us to use
'Cause all we seem to do is lose
Who we are and how we tried
Are we all the same inside?
It's now or never to decide


12. "Stars" - Lacuna Coil
Meteor Shower

As the stars are going out
And this stage is full of nothing
And the friends have all but gone
For my life my god I'm singing

We'll take our hearts outside
Leave our lives behind
I'll watch the stars go out...


13. "Dream On" - Aerosmith
Is the Dream that the Reaper Sees a Darkness Darker than Black?

Every time I look in the mirror
All these lines on my face getting clearer
The past is gone
It goes by, like dusk to dawn
Isn't that the way
Everybody's got their dues in life to pay

Yeah, I know nobody knows
where it comes and where it goes
I know it's everybody's sin
You got to lose to know how to win



DOWNLOAD HERE!

------

Aaaand here are a bunch of bonus songs that are too silly to put in the FST. Because I also find Darker than Black to be very amusing.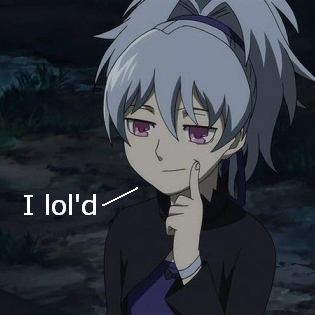 "Secret Agent Man" - Johnny Rivers
SECRET...AAAAGENT MAN!

"Eat It" - Weird Al Yankovic
When I listen to this, I imagine Hei being sent on missions all over to cook food for poor starving Contractors, then breaking their fingers if they refuse to eat. And they'd totally deserve it.

"Who Are You" - The Who
This song describes Misaki and her obsession with BK-201 perfectly. You know it.

"Driver's High" - L'arc~en~ciel
Because obviously Misaki's car gets enough screentime to deserve a song of it's own.

"Ice Ice Baby" - Vanilla Ice
November 11 is COOL.

"I Smoke A Lot" - K's Choice
November 11 smokes a lot, but at least he's got a better excuse than most people.

"The Cat Came Back" - Fred Penner
This can either be for Mao's EPIC BATTLE against the landlady, or the fact that Hei just never seems to die, no matter if he gets thrown off a bridge or a building or whatever.


------
Previous FST's:
Xingese Melody (Fullmetal Alchemist)
From the Edge of Night (Fantastic Children)
Hope on Fire (Romeo x Juliet)
Against the Odds (Tengen Toppa Gurren Lagann)