I think the chapters are getting shorter and shorter lately. For both Fullmetal Alchemist and Juushin Enbu. This one only had 32 pages and it feels like not much happened. ;__;

Good News: ED AND AL ARE BOTH STILL ALIVE. Al just lost consciousness a while, so for the moment, he's safe.

Bad News: ED HAD TO USE HIS OWN LIFE TO HEAL HIS OWN WOUNDS. Basically, he did it the same way he used Envy's Philosopher's Stone- just this time, he used the power of only one soul. He thinks this might shorten his lifespan a little, but there was no other option.

OH GOD, IS THIS THE BITTERSWEET ENDING WE'RE GOING TO GET?! ED ACCOMPLISHES ALL HIS GOALS, HELPS SAVE THE COUNTRY, AND EVERYONE'S HAPPY, BUT THEN HE DIES YOUNG?! OH GOD. OH ARAKAWA. ;____________________;

....I can really see that happening....you just don't use your own life like that in place of a Philosopher's Stone and expect to get away with it......oh god......it's like Nia all over again........

DAMMIT NOOOOOOOOOOOOOOOOOOOOOOO. ;_______________;



...Other stuff:

-I liked that Ed finally snapped back when he remembered Winry's words too.

-Mei wearing Al's loincloth LOL. "Al-sama's loincloth....." Oh, and she's started calling him "Al-sama" in this chapter instead of "Alphonse-sama." One step closer to just calling him "Al"...?

-Mei took the research notes apart because she realized that it used different expressions for gold and immortality in places, and so they separated the pages into stacks that use the same kind of expressions, and then Mei connected the patterns on the pages and they got....the transmutation circle used to make the Philosopher's Stone. Everyone is disappointed that the research notes don't have anything new in the end, but then Yoki sneezes (YAY YOKI MAKES HIMSELF USEFUL AGAIN), and Al comes to a realization that they should flip over all the pages. AND BEHOLD! A NEW AMESTRIAN TRANSMUTATION CIRCLE THAT INCORPORATES RENTANJUTSU!!!!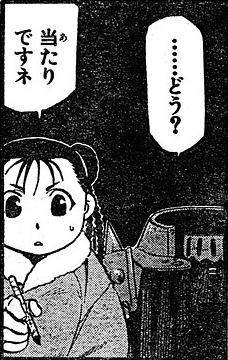 AL/MEI TEAMWORK FTW!!

-Kimbley finds a room that was used for taking away all the rubble that Sloth dug up. There he meets PRIDE!!!1 Pride tells him to give up chasing Scar and go "carve a crest of blood onto Briggs." Also, Sloth is almost finished digging his tunnel. "HURRY....HURRY....THAT DAY IS ALMOST HERE."

OH SNAP WE'RE REALLY NEARING THE END AREN'T WE. ;______;

-Oh yeah, and Ed enlisted the help of those chimera guys he was fighting. They were left to die by Kimbley and Ed saved them, so they figure why not? I love how all the chimeras are getting converted to the good guy side, LOL. Aaand before he lost consciousness, Ed wanted them to take him and go after Kimbley, but they figure that he would be no match for Kimbley in that state anyway, so they decide to take him back to the fortress to see a doctor instead. Well, as long as Al is safe for the moment.....

...AND THEN THEY FIND THE PHILOSOPHER'S STONE. WHY COULDN'T YOU GUYS HAVE FOUND IT BEFORE ED USED HIS OWN LIFE?!?!?!?!? ;____________________;


EDIT: You know what this reminds me of? CHRONO CRUSADE. BAWWWWWWWWWWWWWWWWWWWWWW. T____T

EDIT 2: Chapter 7 of Juushin Enbu had 32 pages too. Coincidence?