-I have to wonder what exactly Amber wrote in her letter to Hei. Hmmmm.

-Huang's "Get on. You're in a hurry, right?" made me go AWWW! Which is why their fight later on broke my heart. D: Because I am totally rooting for Huang to soften up to his teammates. IT'S HAPPENING. SLOWLY, BUT IT'S HAPPENING.

-I like the music that plays while Misaki is talking with her friend (whose name I can't recall). "I can't believe that they, who always move in the shadows, would cause an incident out in the open. Could it be that...." COULD IT BE WHAT, MISAKI? TELL USSSSSS!

-Mao: I heard that back in South America, she worked in a team with you before she left the Organization. What happened between you and Amber?



I was right about November telling July to go to Misaki's place, YAY! :D Not only that, July calls November "NAKAMA." DOUBLE SQUEE!



I WAS ALSO RIGHT ABOUT NOVEMBER MAKING AN ICE SHIELD. YAY!!!!!

-But now he's captured and they won't let him smoke. D: Amagiri giving November a lecture on second-hand smoke seriously made me LOL though. XD They even used the same BGM as when November was saying it in episode 5.

November: I already know that, you don't have to tell me. >:|
Amagiri: I've always thought that I'd like to see what happens to a Contractor who doesn't make his payment. I wonder if it's true that they melt like butter?
November: >:|....*sweats*
Amagiri: I'm joking. >:] *goes to buy cigarrettes*

Does Amagiri have the power to copy peoples' personalities? Because he was totally channeling November in this scene. XDD



Maki practices Japanese because Amber told him to.

Maki: I would do anything if it's for Amber.

(PAY ATTENTION TO THIS LINE. IT'LL COME BACK LATER. :O)

-Hei wants to know why they're not moving. Huang says the Organization's orders are for them to stay put for a while, because they don't want Hei to get close to Amber. Of course, Hei is like TO HELL WITH THAT. And then Huang shoots him. DDD:

Mao: Hey, Huang!
Huang: Don't think badly of me, I don't want to do this either. But it's your fault for not following orders all the time.
Hei: If you get in my way, I'll kill you!
Huang: If you turn against the Organization, you're the one who'll be killed. I'm begging you, don't make me do it!
Mao: Stop it, Huang!
Huang: IF YOU'RE A CAT, YOU SHOULD SHUT UP!

...And then Huang gets zapped. HOLY SHIT. D:

-Maki asks why November 11 is working for humans even though he's a Contractor. Blah blah blah Contractors are the CHOSEN ONES because they've been given power, it's only natural for humans to fear them, blah blah blah. This kid would probably grow up to be Magneto. :/ This whole conversation is really fascinating though-

November: Is that also what Amber-sensei taught you?
Maki: Amber didn't say that. All she told me is that we have to cause the same tragedy that happened in South America.
November: Why?
Maki: I don't know. But since Amber says it, it's probably necessary.
Amagiri: You should be able to understand too. The meaning behind our creation. The meaning behind our actions. We, the Evening Primrose, welcome you. Won't you come with us?
November: If I join your little club, what benefit would I earn?
Amagiri: A future. If you'll think about it, you don't have many options. Make the rational decision, November 11.
November: *laughs* Ah, sorry. I just remembered saying the exact same thing to another Contractor a little while ago. And what do you think he did then? He turned his fangs on me and attacked. Regardless of the fact that there was no way he could win. I couldn't understand how there could be such a Contractor. Just what does he think and what does he live for? The more I thought about it, the more I couldn't understand.
Amagiri: My condolences. And? Are you planning on following that Contractor's example?
November: No, I actually hold pride in being a Contractor. I'll make the rational decision.
Amagiri: Then we won't accept you. (HUH??? Does that mean they only want Contractors who think and feel out of the norm?)



YAY MISAKI GETS TO DO STUFF. :D

November: You're like a prince who comes riding in on a white horse, Misaki. (He's basically calling her his knight in shining armor, LOL. XD)

Misaki: Your nakama told me where to find you.
November: Nakama?
Misaki: Yes. July-kun. (SQUEEE)

Amagiri: You'll come to our side eventually. No matter what, you'll come see us again. (WHUT???)

-Can I just say I LOVE how November 11 protects Misaki from the explosions? I'm not shipping them or anything, but I really do enjoy their relationship. :D

-Apparently Maki won't do anything for Amber after all, because he ignores her orders and decides to follow after Amagiri. THE KID HAS A CRUSH. Now can anyone honestly say that Contractors don't have feelings?




Amber: There was a time when he actually laughed genuinely. It was such a clear smile. That time, I thought, 'Ahh, he got me.' I thought that I'd probably be able to do anything for this person. Anything, if I could only see that smile again. You'll probably feel that way too.
Yin: Me?
Amber: *nods* Please watch over him.

So, yes. We can probably assume that Amber is genuinely in love with Hei. :O

Meanwhile, Hei is still limping along when he comes across...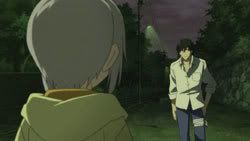 OH SNAP.

Maki figures out that 'Li-san' is the Hei that Amber is always talking about.

Maki: "Arigatou." That was the first time I could say it without thinking. So I was very happy. But, not now. I know what this is. It's called "JEALOUSY."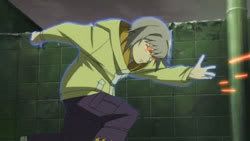 D< LEAVE THE POOR GUY ALONE, HE'S ALREADY INJURED!



HAHAHA YESSSSSSSSSSSSSSS! >D

November: I forgot to tell you something! Good children shouldn't be up so late!

November tells Misaki to go after Hei, because he's the Contractor she's looking for (he recognizes his power). November will go after Maki, and he says he'll be alright because he has July. (SQUEEEE!)

JULY + NOVEMBER TEAMWORK FTW!!!! ♥

July: We can do it.
November: *smile*



OH LOOK IT'S RAINING NOW. >D I give November's smile here an A++++++.

Hei FINALLY arrives. Amber is concerned that he's injured, but he smacks her hand away!

Amber: *sad little smile* You've grown, Hei.
Hei: I have no intention of forgiving traitors. But there's something I want to ask before I kill you. What happened back then? What happened to my sister?!

Amber: You want to see Bai? I can let you see her.
Hei: Where is she?!
Amber: Very far, and very close. *attempts to poke Hei*
Hei: *SLAPS HER*
Amber: ...*gets serious* Come with me, Hei. Then I can let you see her. But what would you do if that means this city has to fall into darkness, Hei?



Amber: Hei. You know, I've traveled a lot. From here to there in time. I always wanted to see you. Always, always...I always wanted to see you.

....I feel rather sorry for Amber here. :| She obviously still loves him, but Hei is just like BITCH PLZ YOU BETRAYED ME NOW WHERE'S MY SISTER. Whatever she did, she seems to think that it's all for the best, but Hei doesn't understand her motives.

Amagiri: You...there's a limit to how much you can pay! Think more about how you use it! (Ooooh. So whatever Amber's payment is, it's limited.)



HOSHIMI-SAMA ISN'T FROZEN. ...You know what I think? Maybe Hoshimi-sama is an older version of Amber? The Amber we see now is younger than the Amber in the flashback, and she says she's been traveling around in time, so....can't there be two Ambers in the same time period? It was never actually said that Hoshimi-sama is a Doll; in fact, we know very little about her. Is that what'll happen to Amber when she can't pay for her powers anymore?? HMMMM!



NEW CHARACTERS YEY. More members of the Evening Primrose club. They're probably all Contractors, of course.

Meanwhile! NOVEMBER'S CIGARRETTES ARE ALL SOGGY NOW. BUT!


:DDDD

April: What? Was that supposed to be taking vengeance for me?
November: *smile* Stop with the dull jokes.
April: You too.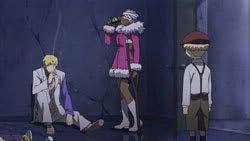 AHHHHH THEY ARE SO CUTE. ♥♥♥

HUANG IS STILL ALIVE! He realizes that Hei took it easy on him. :D "Even though you're a Contractor..." ♥!!!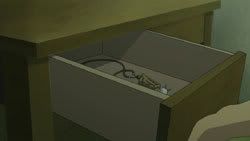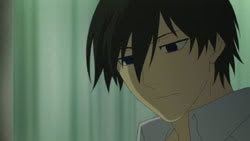 HE STILL HAS IT!!! :O


Hmm...I have no idea what the next episode is going to be about. I recognize some of Hei's neighbors lying in a room together, and there's a lot of new characters. But the important thing to note is that the sunspot thing hasn't been resolved, and Amber & her group are still around plotting to erase Tokyo from the map. This will probably be what moves the plot from now on.