FSUOFIHJSDFHSd Livejournal wouldn't let me log on for the past three hours. >EE


Kirsten: AWWWWWWWW *squeals*
Me: AH WAIT *opens page*
Me: OMG CUTE
Me: OMG TRISHA AND HOHENHEIM <3333
Kirsten: :O Why is Hohenheim hesitant to touch them...?
Kirsten: Ahhh.
Me: he thinks they'll catch "monster"
Me: Trisha friggin KNOWS what's up with him
Kirsten: WAIT
Kirsten: "Kono karada ni natte kara"?!?!?!?!?!?!!!
Kirsten: Wait am I just being an idiot and freaking out over something irrelevant.
Me: O_O
Kirsten: It's the "ni natte" part.
Me: sfjdshgushg SO MANY FLAHSBACKS
Me: Trisha is so cuuuute
Kirsten: *jumped to the last page to see if the entire chapter was flashbacks* OMG!!!!
Kirsten: Okay going back to the right page!
Me: O_O
Me: OMG SO CUTE
Kirsten: AKDFHJFIDJHSDFJFD SO PRECIOUS
Kirsten: AWWWWWW SO CUTE
Me: AHHHH
Me: *on page 10*
Me: THAT'S WHY ARAKAWA ALWAYS HID HIS FACE IN TEH PICTURE OMG
Kirsten: AJSGOSDFHDHDH DDDDD:
Me: ;________;
Kirsten: "Zutto konomama" AHAHAHAHAHAA I WAS JUST LISTENING TO HIKAGO CHARACTER SONGS TOO.
Me: DAWWWW HE BUILT THE SWING
Kirsten: AWWWW XD
Me: ahahaha XD
Me: omg they're so precious!!!
Kirsten: *_____*
Kirsten: AWWWW ;_____;
Me: ;___________;
Me: I thought this might have been what Hohenheim was doing......but it's so sad!!!!!
Kirsten: WTF...
Me: he left so he could live with his family but by the time he's almost done he's lost them DDDDDDD:
Me: okay what's with the random military guys...
Kirsten: Wha...
Me: O_O wtf...?
Kirsten: I BET IT'S PRIDE.
Me: HOLY.......WTF. THIS IS LIKE HELLSING!!
Me: ALUCARD'S ATTACKING BRIGGS WTF
Kirsten: What page are you on?
Me: 24
Kirsten: HAHAHAHAHA Breda's cousin is on the next page
Me: ....okay WTF JUST HAPPENED THERE
Kirsten: I DON'T KNOW O.O
Me: that was seriously just like Alucard attacking!! DX
Me: ...oh yay Olivier!
Kirsten: HAHAHAHAHAHA OLIVIER <3
Kirsten: SHE SPARKLES OMG :O
Me: XDDDDD
Kirsten: OH SNAP.
Me: she didnt' have to answer phew!
Me: hahaha Falman! XD
Kirsten: XDD
Me: Oh snap Kimbley and Miles!
Me: hahaha Kimbley thought Al was the Fullmetal Alchemist XD
Kirsten: HAHAHAHA I'VE MISSED THAT GAG.
Me: it's so much funnier when it's Kimbley too XD
Kirsten: Ewwww
Kirsten: ...You'd think that wouldn't be my reaction to severed arms in Hagaren.
Me: XD;
Me: ......oh what
Kirsten: ......
Me: ahhhhhh Bradley!
Kirsten: Kimbley on the phone amuses me somehow.
Kirsten: OH SNAP.
Me: Selim told him they're studing rentanjutsu!
Me: OMG WINRY
Kirsten: YES
Me: man it's been so long since we've seen her bandanna
Kirsten: :O
Me: YAAAAY WINRy
Me: BUT THIS CAN'T BE GOOD FOR HER DX
Kirsten: ...Her eyes look really weird in the last panel.
Kirsten: BRADLEY GONNA LAY THE SMACK-DOWN? : (
Me: DDDD:
Me: ....I just love how she's being all geeky in her room though. those glasses are awesome.
Kirsten: Yes 8D
Me: hahahaha her room looks so geeky <3
Kirsten: She has a HAND on her desk!
Me: :O!
Me: she needs to turn on more lights or she'll ruin her eyes


*More theories and rambling to come later...*

EDIT:

Okay, how ironic is it that Hohenheim is (apparently) searching for mortality when everyone else is going on about how they want immortality? So that's one part of his plan, and the other part is stopping Father's plan? I mean if he wants to live on and die with his family, he very well can't let Father reach his goal, and he's figured out what's going on.

Also, this scene has so much more meaning now. DD: Makes me wish I'd waited a little longer before finishing my MMV.....I'm gonna have to reread Volume 11 (and the beginning of Chapter 46) again. Gawd, how he must have felt when he came back to find everything gone.... "Don't leave me behind" ;___;

I like the fact that we get to see more of Trisha. Previously, all we've ever seen of her is glimpses from Ed & Al and Pinako's POV. At least until the Elric Family gaiden. Now we get to see her through Hohenheim's POV, and she really is such a lovely woman. ♥ (The part where she was saying she would have already been infected with "monster" made me wonder whether that was the cause of her sickness, but I rather doubt it.) And I like how she's aware of what Hohenheim's body is like but doesn't care.

The family theme is emphasized once more. And Trisha and Hohenheim's promise- he asked her to wait for him. Is that it? I'm sure some people would be disappointed that it's so simple, but I think it's really likely that was the promise. (If so, that totally gives me vibes for Ed/Winry parallels. >.>;)

EDIT 2:

So. The automail they make at Briggs uses duralumin, carbon fiber, nickel, and copper, right?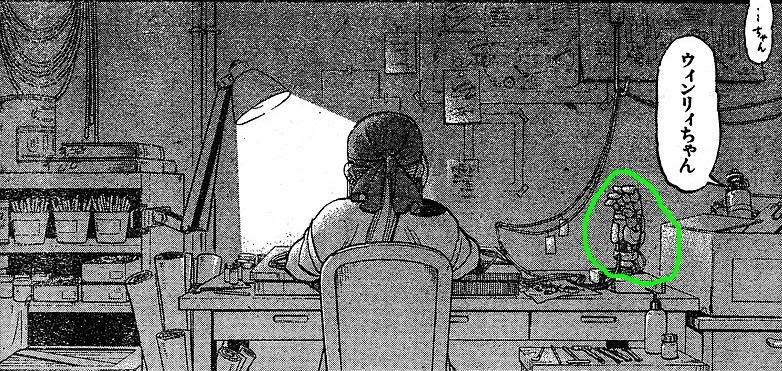 Is she making Ed some new automail there? :)