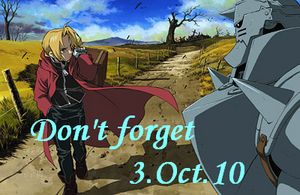 *moment of silence*

And now, my To Do list for today:

-eat breakfast (cinnamon bagels yum!)
-Do some research on Munich, Bavaria, Freemasons, etc.
-Finish the episode summary w/ help from my mom
-Type up and finish my fanfic, titled "Proper Learning"
-if there's still time left, rewatch some old FMA episodes

Yes. Full Metal Weekend means completely FMA-related events. With the exception of the bagels, but I WILL be eating them with milk...!

Update: Someone in the FMA community did some wonderful research and now I know what all those Germanish names are. *_* Also, a fansub came out, and from what I've heard, it's pretty good. I dunno if people still want me to finish the summary, but right now I'm going to get working on my fanfic.