Well, I thought that it's by time I make a more in-depth reaction post to the new chapters. And by that I mean that I'm gonna review each of the new characters! :D

First of all, like others have already said, Arakawa has a knack for coming up with awesome characters, and making people love them in a very short amount of time.

For example, the two doctors who appeared in the latest chapter: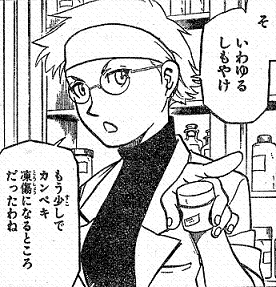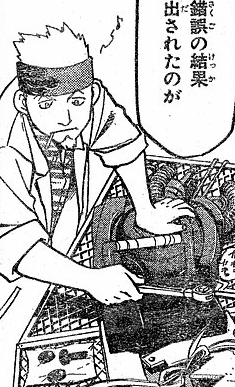 We don't even know their names yet, but they still look and act very cool. I like how the female doctor charges Ed for the coffee before he could refuse. XD Hopefully we'll get their names soon. I'd also like to see Winry interacting with them when/if she comes to the north. I think it'd be interesting.

And then there's Bobby: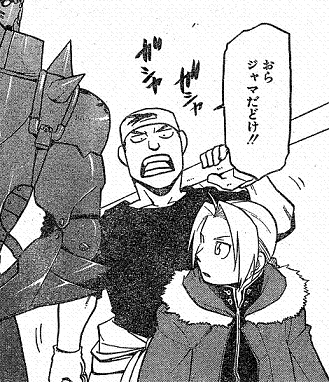 So far, we know his name and barely anything else. Heck, he's only appeared in two pages. The reason I'm even listing him here is because...well...

Kirsten: Bobby just looks like such a likable character
Me: I know :D
Kirsten: He has that LOOK
Me: ....if I weren't an EdWin fan I think I'd ship him with Winry >>;
Kirsten: XDDD

From what little we've seen of him, he seems to be some sort of mechanic. (Yes, that's my rationale for why I think he'd look cute with Winry. *cough*) If Sloth emerges from underground before they have time to alert someone, maybe Bobby will have some role to play?

Captain Buccaneer: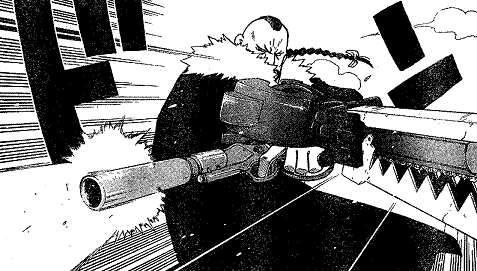 So far, he strongly reminds me of Armstrong (Alex Louis Armstrong, I mean). Only less...flamboyant. Though he does have that bow at the end of his braid. XD He's also not much of a softy, though he's not mean either. He looks distinctly Xingese to me- maybe his mother or one of his grandparents came from Xing? As for his arm, he probably lost it in battle, and it's implied that his automail was developed at the fortress itself.

Which raises the question: How often does the fortress come under attack? It's been said earlier that Amestris has a non-aggression pact with Drachma, but everyone at the fortress seem to be ready to fight at any moment. But of course, the fortress forms the border, and the border at Mt. Briggs is the only thing keeping Drachma out. There are officers out all the time keeping watch for Drachman spies, even back when Izumi was there. So the situation is unstable, and everyone has to be on constant alert. The fortress really is like a "castle."

This also makes me wonder if there will be a battle while Ed and Al are there. Or if we'll see any people from Drachma at all. For example, I could totally imagine Mei being friendly with a stranger who turns out to be a Drachman spy. XDD (She's a foreigner too, how could she tell the difference?)

Anyway, back to the characters.

Major Miles: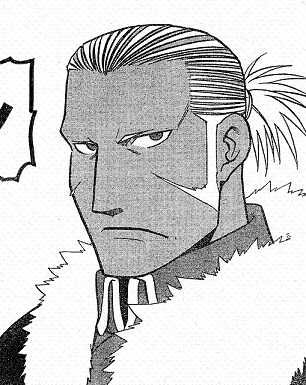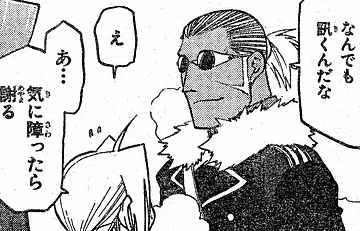 I think his situation is very realistic and I love Arakawa for coming up with him. Miles gives us another point of view on Ishbal, and his feelings on being of mixed race are very human.

"After that rebellion, whenever normal people see these eyes, they draw back. As if an Ishbalan is equivalent to a target of pity.....
To be honest...I'm tired of having to explain every time."

And he's just such a cool guy. I can already tell he's going to be one of my favorite characters. I'm curious about his wife, too. It doesn't seem that any of them are allowed to take vacations very regularly, so I'm guessing that she also lives at the fortress? Will she be introduced as a character later on?

Ed's conversation with Miles was awesome too. Ed obviously has become more humbled after hearing about Ishbal, and he's also been personally affected by the rebellion, so it's not as difficult for him to talk about it. (Huh...now I want to see Winry interacting with Miles too. HURRY AND GET OVER HERE, GIRL!)

And we already thought that Ed was growing up, but it seems that living at the fortress will be another step up for him. After all, it's "survival of the fittest," and this chapter effectively made it look like he and Al are just two naive inexperienced kids. XD

I also have to say that I love how race and gender don't matter at the fortress. It's no wonder that Olivier can be head boss- because she's best for the job, and being a woman doesn't need to factor into that. Which finally brings me to...

Major General Olivier Milla Armstrong, aka The Northern Cliff of Briggs: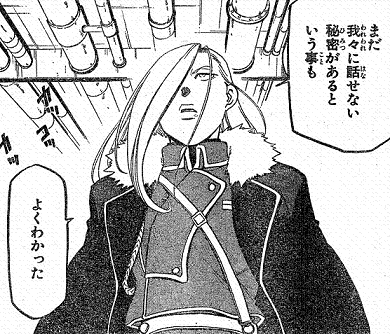 Oh man, I love her. XD She's even tougher and more merciless than Izumi! Well, she needs to be for that kind of position. She also comes off as sort of a warmonger, but again, she needs to be. So far we haven't seen any of the Armstrong sparkles from her, and right now I get the feeling that we won't, because she's SO HARDCORE. And what does she have against her younger brother? XD Maybe she split off from her family on purpose? Did the sparkles drive her mad?

And another thing- she knows that Ed and Al are still hiding something from her. She'll probably get the secret out of them sooner or later. The military pretty much seems to be her life, so what will she do when she finds out that the Fuhrer, who's at the very top, is plotting against the very country she protects? Will her focus shift from Drachma to Central? If so, she will make a very powerful ally to Roy, along with Grumman. ...And I want her to meet her brother again omg!!! XD That would be awesome.

Olivier needs to be on the spine of Volume 16. YES.


Hmmm...I feel like I should have an icon for at least one of these characters pretty soon.

EDIT: I just realized that Ed's wearing new shoes now (because he ate one of the other pair). I should probably update the Ed clothing analysis soon...