Quite a lot of firebending in these episodes. But pretty soon there will be a lot of waterbending, so it all evens out (kinda).


Book 1 Chapter 15: Bato of the Water Tribe
Sokka and Katara reunite with an old Water Tribe friend. Feeling insecure, Aang intercepts and hides an important message from Katara and Sokka's father.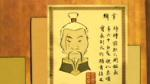 Book 1 Chapter 16: The Deserter Aang begins learning firebending techniques and ends up battling Admiral Zhao. Meanwhile, Katara discovers she possesses a special power. (Check out this video after you've finished watching. XD)

Comment if you download plz~!