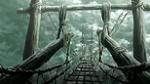 Episode 13: One Night Bridge One night, a girl named Hana falls off of a rickety rope bridge into the valley. Years later, she is still alive, but she lives like a zombie. (Oh, this one is so sad. ;__;)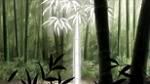 Episode 14: Inside The Cage Ginko meets a man in a bamboo forest who claims that he cannot find his way out. Gossip from the nearby village leads Ginko to suspect the man's wife, who is rumored to have been born from a bamboo sprout... (And THIS one is just freaky. O_o)

Comment if you download plz~!