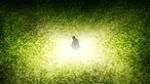 Episode 9: The Heavy Seed
Ginko goes to investigate a village where it is said that after a natural disaster, they have a large harvest...in exchange for one of the villagers' lives.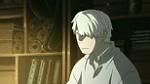 Episode 10: White In The Ink Slab Some children become sick after sneaking into Adashino-sensei's warehouse. Stumped by their strange illness, Adashino contacts Ginko for help. (Adashino's second appearance in the series!)

Comment if you download plz!