Sorry I'm late with this, sendspace was acting weird yesterday. >.>;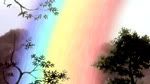 The Rain Comes, A Rainbow Forms
Ginko meets a young man who travels the land in search of a rainbow to bring home to his father.
From the Sea Border A man waits for the remains of his fiancee to wash up on the seashore, after she disappeared into the mist years ago...

Ugh, my summaries suck this time. Anyway, comment if you download plz~!