This is my first time reading a new Hellsing chapter RAW. How exciting!
Anyway, OMGWTF WALTER IS KICKING ALUCARD'S BUTT. O_____O WHAAAAAAT. He's making shields out of wires and tearing him up and Alucard's like WTF?! And then...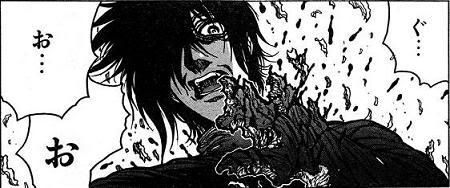 NUUUUUUUUUUUU! D: RIP Jackal! No more cracky Bruce Willis dreams! NUUUUUUUUUUUUUUU!
Alucard looks so UPSET! That was his favorite gun and it was a present from Walter and Walter's like "Did you forget I was the one who made it for you?" :((((
Also, WTF
Luke Valentine
emerging from the hellhound?! (Walter called it "Baskerville", hee.)
.....These chapters are too short.
EDIT: LOL Alucard on page 1. "Aren't they good women?
Now
they're mine.
Only mine.
Only my
beloved
master
, and
only my
beloved servant. They are
no longer yours!!
" He just has to gloat. XD