Phew, finally got around to doing this!


Here is my case for the pairing. Yes, technically they've only met face-to-face (if you can even call it that) once, and very briefly. My justification for liking this pairing is based off the potential interaction and just how these two characters would balance each other out in a relationship.

First of all, ever since the 2nd Volume, there's been a running joke in the omake that Al wants to be popular with girls, but finds it difficult in his armor body (he even asks Winry for advice in the Vol. 6 omake). There's also his statement "I wanted to get a girlfriend at least, Brother...!!" before going to meet Izumi in Chapter 16. Conclusion: ARMOR BOY WANTS SOME LOVIN'!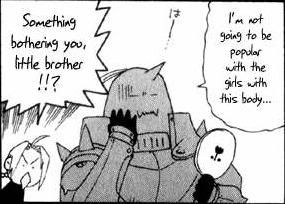 But- and this is mostly personal interpretation of his character -I think Al would go more for the kind of girl who is cute, someone Al could cuddle with, like a cat. Unlike his older brother, I think Al would be very welcoming of touchy-feely stuff and making his girl feel special.

Now what about Mei's expectations? Shortly after she is introduced in the manga, Mei quickly becomes enamoured with an alchemical prodigy by the name of Edward Elric. However, this crush is based only on word-of-mouth, and her imagination goes out of control to the point that she doesn't even recognize the real thing when she finally meets him (or, er, kicks him in the face and calls him a bean).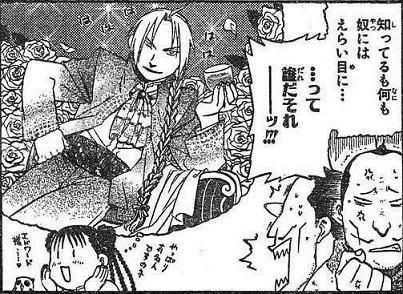 Judging by that reaction, does Ed match her expectations? Hell no. XD

What about Al? Being Ed's little brother, he is (presumably) closer to Mei's age and would have the same gold-hair-gold-eyes that Mei is dreaming of, only taller (in his real body). He is also a prodigy himself, and as part of Mei's search for Ed involves learning the alchemy in Amestris, he is just as able to teach her about it. In fact, Ed and Al could learn from her as well (they seemed very interested in rentanjutsu upon meeting Ling).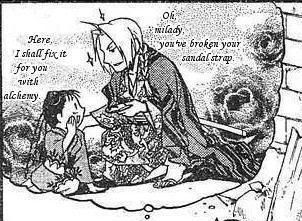 But most importantly, Al's personality better fits Mei's ideal boyfriend. Is he mature? Yes. Is he chivalrous? Yes. Does he have a more refined taste than his brother? Yes. Now answer me this: who would be more willing to fix Mei's sandal strap- Ed or Al?

(By the way, I find it amusing how Al sticks out more clearly in Mei's memory -as a horrible monster, to boot- while Ed is remembered only as "some small thing that was there." XD And I don't mean to bash Ed at all, just saying that Al is more suited for her.)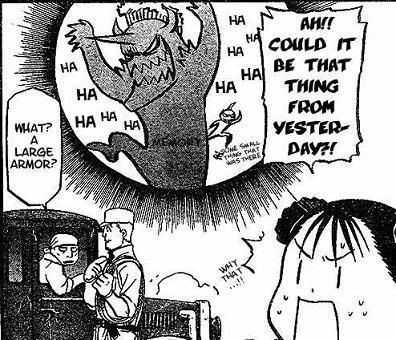 So besides their initial (disasterous) meeting, what could bring them together? My theory: Xiao Mei.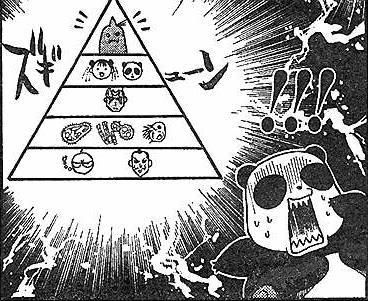 Al found Xiao Mei after the battle with Scar, and almost immediately succeeded in 'taming' her. (Ed, meanwhile, gets no respect. XD) And after that, Xiao Mei is present when the brothers fight Gluttony, and then face off against Envy. Xiao Mei is there to see Al break down after Ed is swallowed, witnessing his humanity, his strength, and his devotion. And in Chapter 52, we see Xiao Mei clinging to Al in fear- clearly, Xiao Mei trusts him now, and Al shows that he is kind, worrying about the little panda and trying to comfort her.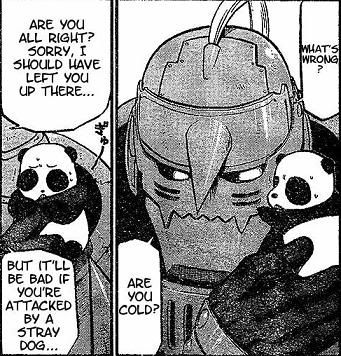 Alright, alright, but what does this have to do with Al/Mei? Well, what I think will happen is that after all this, if there's one way for Mei to change her present opinion on Al, it's through Xiao Mei. The girl and her panda are extremely close, to the point where Xiao Mei mimics her movements and expressions. Judging how Xiao Mei has the tendency to BITE people, finding out she actually likes him should tell Mei many things about what kind of person Al really is. (Surely, it should make her forgive him for 'kidnapping' her friend, at least.)

And then what? Well, that's left up to the fan's imagination, or Arakawa if she chooses to go in that direction. I really don't think it'd be hard for them to be a couple once they get to know each other. I think Mei would be able to look past his armor body to see the boy within. Just look at her and Xiao Mei- their friendship was formed on the basis of outcasts sticking together. If she could accept a stunted panda as her sister, why not fall for a soul stuck in a suit of armor?

Hell, maybe she'll even end up helping Al get his body back in some way. I don't think Arakawa would bring Mei, the only character we've met so far who is knowledgable in rentanjutsu, into the story at this point unless she'll have some impact on the plot.

So the only real obstacle at this point is the fact that Mei is allied with Scar, who wants to kill Ed. Al isn't going to be happy with that, oh no. But that all depends on Scar's attitude, and who knows, it may change if he gets to meet Father or learn what Envy did.

In conclusion, whether it happens or not, Al/Mei is one of the cutest, more plausible pairings in the FMA series. And I personally hope that the Kick-Ass Princess will eventually find her Knight in Shining Armor...quite literally.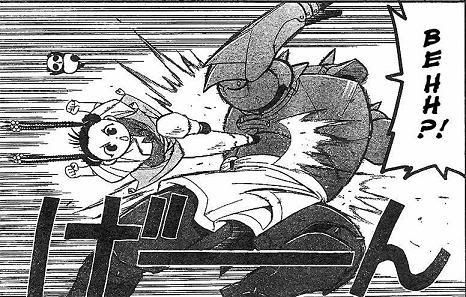 ♥ O ♥ T ♥ P ♥

(EDIT: I just realized this, but if these two get married, that means Ed and Ling will be in the same family, in a way. That would be.....OMG. XDD)